5 reasons trainers need social fitness technology to grow their business
Fitness professionals are now flexing new muscles
The pandemic has seen the closure of gyms, studios, and outdoor fitness companies. Fitness consumers are tuning in online or outdoors for their legal social fitness fix. Trainers who once relied on the marketing and pull of heavily branded studios are revelling in newfound freedoms and are carving names for themselves online. This 'solo model' trend in the fitness space is accelerating.
There are new rules of engagement – new rules of making a sale. Class popularity and business growth are now linked inexplicably to trainer personality, not defined by place. Trainers are doing it for themselves and some will never return to the gym grindstone.
BUA's tech offers a fitness foghorn for trainers. From the online social fitness network, the activity feed, online fitness studio, to deep tech algorithms that match make trainers and consumers – BUA is a stage for trainers to curate a brand, tell their story, and showcase how they'll ramp up consumers' wellbeing.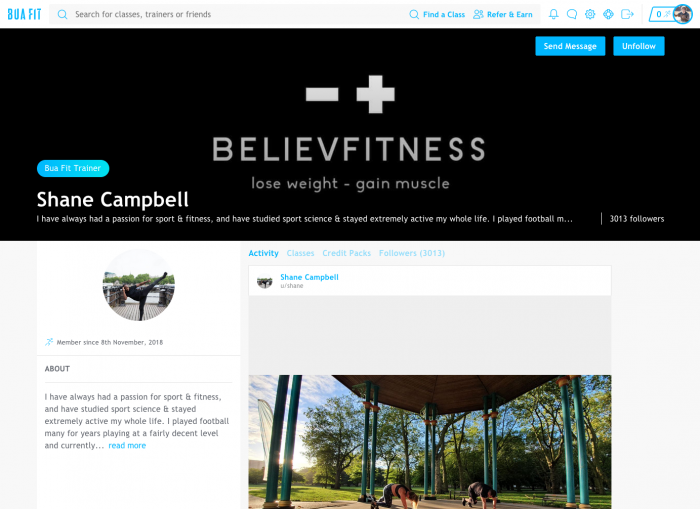 Why do trainers need social tech?
To be heard. With Instagram and Facebook flooded with trainer content and 6000 tweets sent every second, competition is astronomical and good content is swept to the bottom fast.
BUA's feed is unique. It is only for fitness and populated by masses of exercise lovers. Consumers can follow their favourite trainers so personal feeds are full of cherrypicked content. Handfuls of trainers are now amassing 3000 engaged followers on BUA.
Trainers' voices are amplified, the unnecessary noise of normal social media does not exist, and trainers are speaking directly to leads – they are always one click away from a sale.
….and to boost that reach. When consumers are engaging with a trainer's post, this post goes to the top of the pile thanks to BUA's clever tech. Good content gets rewarded, so its reach snowballs and sales happen.
To build a business in one place. Alongside the feed, a trainer profile, and a marketplace to create classes, BUA LIVE allows trainers to launch online fitness business on the platform in an insured and compliant place. No subscriptions to Zoom and no faff with external links or downloads. Trainers can flee the time-consuming freemium business model – no more free insta live workouts with clients interacting hundreds of times before they do business.
To start a conversation that retains consumers. Trainers can slide into consumers' DMs and vice versa. Users can throw fist pumps to 'like' posts and comment on all feed content. The feed is a live insight into consumers' desires and struggles – trainers create personalised content and classes in response. There is no need to awkwardly approach strangers in a gym, no more spray and pray methods, and absolutely no dead-end paid-for referrals. Trainers are drenched in potential leads.
BUA has a secret sauce that matches trainers' classes with consumers' needs. An algorithm based on consumers' preferences, exercise routines, and booking behaviours means we do the hard work, so trainers don't chase clients.
To save time. All the feed's content can be easily exported and shared to other social platforms. Trainers (and members) can easily share posts on our fitness ecosystem and send them out into the Facebook, Instagram, and WhatsApp stratosphere.
To offer greater value to their collabs. Sports clothing brands, nutrition wellness companies, and equipment suppliers who endorse trainers want the untapped and engaged target audience already on BUA. Equally trainers can also offer brands outside of the fitness world the chance to connect with a new potential audience.
Trainers can now interact, turn target customers into their end consumers, and retain them. BUA social tech helps trainers find their voice in a place built to hear it.
Don't miss your opportunity to grow your business with BUA!
Trainer recruitment round now open: https://buafit.co.uk/for-trainers
Book Outdoor & Online Classes
Keep it interesting and convenient. Choose from over 100 fitness partners in incredible outdoor locations throughout London.
Join BUA for free
Partner with us
Build your income and fitness brand. No rent, no fees, no marketing costs. Focus only on your expertise - getting people fit.
Get Set Up