Interview With Rugby Superstar Rob Kearney: Why He Backs BUA Again
British and Irish Lions player and Irish rugby legend, Rob Kearney, gives us a sneak peek of his high-flying life and love for BUA. Rob is an investor of the business and BUA's brand ambassador and is always on hand to offer a professional athlete's insight into the fitness tech scene as a leading member of the BUA team.
Rob's incredible rugby career includes multiple Heineken Cups for Leinster, four Six Nations Championships and two Grand Slams for Ireland. To top it off he has several caps for the British and Irish Lions. Recently, Rob made his highly anticipated return to GAA (Gaelic football) at his childhood club Cooley after a successful season with the Western Force in Perth, Australia.
How was your stint with the Western Force?
I had an amazing trip thank you – the timing for me was just perfect to try something different in a new competition and with a new team. The fact that Australia was covid free for the duration was brilliant too and to play in mostly full stadiums was a bonus.
Off the pitch you have a big passion for business. Where does that come from?
I was always very conscious of having a dual career, recognising that professional rugby would one day come to an end and I needed to be equipped for the life after. I completed my primary degree and MBA whilst a full time professional so when I finished the next logical step for me was to enter the business world through investing, board roles, and co-founding start-ups.
What do you like about helping early-stage start-ups?
I buzz off the energy of a true entrepreneur and admire their ability to constantly deal with setbacks and to keep moving forward. Given my high-performance sports background I can help by offering a different point of view, plus there's lots of transferable skills that have aided me over the course of my fifteen year career.
How did you come across BUA FIT?
Dave (founder) is someone whom I have known for years, he first approached me with the idea back in 2018 and I immediately loved it – I am very passionate about both wellbeing and fitness, and the company aligned very much with my own personal values and beliefs which was very exciting for me.
What is your role in team BUA and how do you support?
I am a brand ambassador (and investor) for the company and help to get our messaging and mission out into the market. I am a sounding board for Dave and Sam (founders), whether that be for problem solving, helping them push forward with setbacks, or how best to perform better as an organisation daily. I've also been helping with introductions to my own business network too.
Do you invest in other sectors outside of fitness tech? If so, what industries?
I had a wide range of other investments in the hospitality sector, health and beauty, recruitment, and most recently a healthy snacking company.
Why did you decide to back the BUA brand?
I always back people before the brand, and I think this is the most important thing in business. Initially, I could see the gap and vision Dave was demonstrating to me pre-investment. After my first investment, I'm learning the market clearly needs BUA as we're about to hit 10,000 consumer bookings. This market coupled with the fact that Dave and Sam are proving they are the perfect match to solve this problem is why I'm backing them again. Their passion and drive to break down barriers is admirable.
What has been BUA's biggest challenge since you joined?
Similar to most other companies the global pandemic has been enormously challenging – particularly for the outdoor fitness model. We have had to constantly adapt in lots of ways, and I am particularly impressed with the company's agility during this period and how we have managed to sustain quarter on quarter growth.
Can you share one memorable highlight since the first press release back in December 2019?
Seeing the images from the group outdoor classes at The Scoop with London Bridge City supporting. I love seeing where BUA will pop up next. The weather for a couple of classes wasn't good, but it was great to see good attendance and lots of smiles from the participants after a tough class. Seeing the product put into practice is always a big milestone, part of our defensibility piece is bringing consumers and trainers to exercise (and teach) in creative outdoor locations which adds to the overall experience on both sides of our marketplace.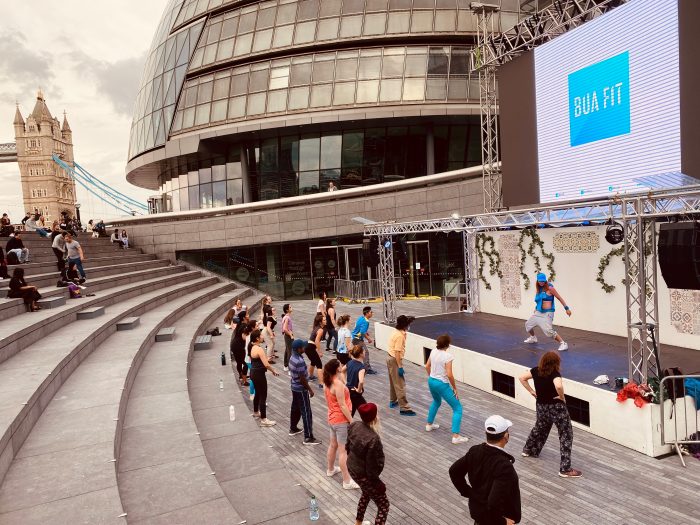 Why are you re- investing in BUA?
I believe in the team and product now more than ever – the market size is enormous, and we are presenting a different solution to the industry which obviously gives us a massive advantage. I have no doubt that BUA will hit their target of doing 1000 outdoor classes a month in the very near future and then we build from there.
Can you share a standout memory of playing rugby over in the UK?
For me, probably, winning the Six Nations Grand Slam in London in 2018. To beat all five teams in the competition is very difficult and to do it away from home against England was particularly satisfying.
What are you most excited about with BUA?
In the short- term, building out our B2B model and subscription solution. Long-term, being a global wellness/lifestyle brand moving into other markets.
If like Rob you want to be part of BUA's second funding round, please click here now.
Investing involves risks, including loss of capital, illiquidity, lack of dividends and dilution, and should be done only as part of a diversified portfolio. This page has been approved as a financial promotion by Seedrs Limited, which is authorised and regulated by the Financial Conduct Authority (No. 550317).
Book Outdoor & Online Classes
Keep it interesting and convenient. Choose from over 100 fitness partners in incredible outdoor locations throughout London.
Join BUA for free
Partner with us
Build your income and fitness brand. No rent, no fees, no marketing costs. Focus only on your expertise - getting people fit.
Get Set Up