Why group workouts are a global trend
Who is the ideal client for a fitness professional? They attend a fitness session regularly, stay with the brand or trainer for years, and often recommends them to friends. How does BUA do this? Through group workouts.
People are enjoying group fitness more than ever before. Group fitness members are loyal and committed to building classes into their daily lives forming bedrock habits. Those who have been with BUA longest cite the group aspect of fitness as the main reason for their commitment – over class convenience or any other factor.  
Break free of bad decisions 
When people sweat solo it's likely they'll fall back into bad habits. A fitness friend and a larger group keeps people accountable, so they turn up week in week out. They are more likely to reach their health goals which again drives them to come again – a circle of retention kickstarts.
No one leaves a class because of too many friends
The shared experience of the highs of a class provide motivation to keep going in the moment, but more importantly is a solid foundation for a social group that extends outside the class. Groups also create multiple points of contact so people will be missed if they don't attend. The use of BUA's social tech and the BUA feed also help strengthen these bonds away from class.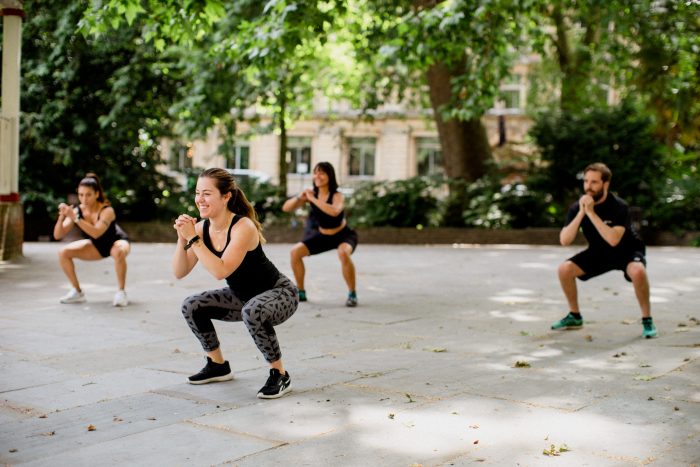 Group exercise is less intimidating
Self-esteem and first workout fears are real barriers to forming a fitness routine. Group workouts are less daunting and having class regulars can help others understand unfamiliar moves. There is a real power in peer-to-peer support.
Encourages new users
Newcomers jump into a ready-made friendly community and BUA offer a referral service to boost this. If you refer a friend you and your friend gain a complimentary class credit. So, the client enjoys a class with a familiar face and trainers increase their user base. For your unique referral code please click the 'Refer & Earn' tab on your profile and furnish your friends with the code when they book a class – life is simply better together.
A little competition, a little more action
The group format jump-starts friendly competition between class attendees. Comparing physical activity with others helps people work toward their goals individually, and these differences in goal attainment motivate others to adjust their aspirations skyward. This eventually improves overall levels of physical activity in the entire group. More activity = more health benefits.
New opportunities are endless
When fitness is a group exercise the type of class can be a group-led decision, so you're more likely to be thrown into new workouts, uncover new talents, and find new favourites.
On top of this when we learn something new the brain releases oxycontin, the bonding endorphin. And who do we bond with? Those going through the same new fitness experience. With stronger bonds and a greater sense of community we are more likely to try new things again – a feedback loop is created.  
Variety is a lifeline for trainers
The BUA community are fiercely loyal to their favourite trainers, but also love a variety of classes to choose from. With group classes creating confident fitness fanatics trainers can fearlessly host new fitness concepts whilst keeping their following satisfied.
When trainers diversify their class portfolio – a HIIT class one week, a strength and conditioning the next – they grow their personal brand and expertise – a key BUA goal.
The masses continue to seek strength in numbers over more solitary ways to sweat. BUA is leading this huge global fitness trend.
If you want to be part of the journey, we are crowdfunding with Seedrs. Join the 250 investors in our early and late pre-seed funding round. Capital At Risk.

Investing involves risks, including loss of capital, illiquidity, lack of dividends and dilution, and should be done only as part of a diversified portfolio. Please read the Risk Warnings before investing. Investments should only be made by investors who understand these risks. Tax treatment depends on individual circumstances and is subject to change in future.
Seedrs Limited is authorised and regulated by the Financial Conduct Authority. Seedrs Limited is a limited company, registered in England and Wales (No. 06848016), with registered office at Churchill House, 142-146 Old Street, London EC1V 9BW.
Book Outdoor & Online Classes
Keep it interesting and convenient. Choose from over 100 fitness partners in incredible outdoor locations throughout London.
Join BUA for free
Partner with us
Build your income and fitness brand. No rent, no fees, no marketing costs. Focus only on your expertise - getting people fit.
Get Set Up