"I don't know any other fitness social media platform" – Jamie Goldstein
And this is why I joined BUA….
Fitness pro, Jamie Goldstein, partnered with BUA deep into lockdown. A 28-year-old former bartender who loves to mingle quickly realised the power of social fitness and literally ran with it. This week we discover why he jumped into group outdoor fitness when the world was falling apart.
I started outdoor fitness get-togethers slap bang in the middle of the first lockdown with my friends. Word spread through the neighbourhood and classes gained traction. Having to deal with all the payments, bookings, and marketing by myself became too much – it was eating into the time I needed to plan and actually do the sessions.
BUA took all of that off my hands and for the commission they take it was well worth it. You're supported fully and the icing on the top is that it's a ready-made social media platform. So, clients can link up with trainers straight off the bat. It was the convenience and the community that was the clincher.
Why choose a career in fitness?
I loved sports as a kid but due to injuries I couldn't continue on that path, yet I still craved being active. Becoming a fitness professional was a way to carry on that competitive spirit, albeit against myself not through team rivalries. Moreover, I love people – I was a bartender and the best part was creating cocktails and hearing stories. I still get that social side working 1 to 1 or in a group session – I get the sporting outlet whilst fulfilling my love of connecting with people. WIN -WIN.
What's the best part of your job?
The face-to-face interaction is what I love the most. I also love the technical element of it – the programming and seeing people's progression. The biggest progression you see with someone going through their fitness journey is the personal one, not the physical one. Seeing people's attitudes, mindsets, and emotions change is so powerful, and I have the privilege of going on that journey with them. That's magic.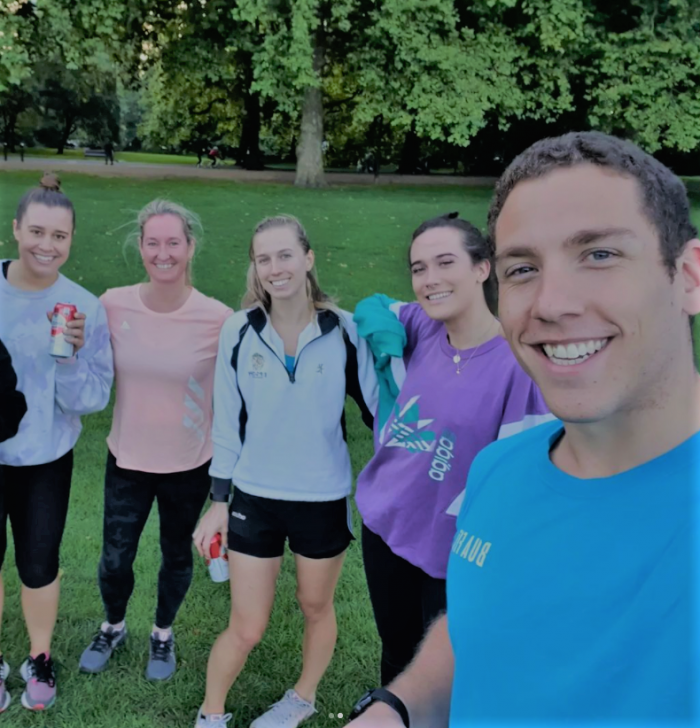 I don't know any other fitness social media platform. And that's what BUA is. You can share, bond, and widen your social circles whilst getting fit.

Clients are interacting with coaches in a totally different way. Is there any other place where you can interact with as many coaches as you like outside of a class? The social aspect isn't limited to your hour, or 45 minute session – you can extend relationships outside of this.

It's one single platform covering a gauntlet of fitness concepts – you can go to yoga and conditioning and share stories and pictures of both.
What really matters in my classes is the community spirit which is why I align with BUA.

I'm there for the technical element and as a coaching cue, but fundamentally I'm bringing together like-minded people who want to hang out and socialise – we often do a sweat and social where afterward we sit in the park and let off steam. We mesh because we're all in the same boat and there for similar reasons, but we're from different walks of life and that's what makes it interesting.

With the Christmas hols coming up I'm running a super social fitness session on BUA LIVE on the 17th to unite us before we disappear homeward. Come join and say hi!
What's the best advice to a newcomer to BUA?
Jump straight in and try as much as you can. Cast your net wide so you discover what suits you best.
From a trainer's perspective – find what makes you different – I know that's such a cliché and for me it didn't make a whole lot of sense when I started. You get kettlebell classes, yoga classes etc and they can be fairly specific, but my classes are bodyweight conditioning – and that is super broad so my niche is me. That's my unique selling point – the fact that people come to me and have a good time. It's a really social atmosphere so they keep coming back.
Make sure you know in your head why you're different to the other person in the park doing their session and exploit that. It doesn't have to be wild and new – you just need to know what you're about.
How did you hear about BUA?
Sarah from BUA DM-ed me on Instagram. I was already actively looking for something to take care of all the admin and faff of classes and she explained it was far more than this. So, we met, took a session together, and I was never not going to jump on board from that point.
Best piece of advice for living better?
Make it sustainable. There's no such thing as a quick fix. There's quick results but it's not a fix if you're going to regress. Find something that works for you. You got to train and live in a way that you can for the rest of your life else it's not sustainable.
The aesthetic is also a huge goal for many people and there's nothing shallow about it, but looking good should be a side effect of living well, moving well, and eating well. It's best to focus on the performance and let the aesthetic look after itself.
If like Jamie you're keen to reap the benefits as a BUA partner click here.
Book Outdoor & Online Classes
Keep it interesting and convenient. Choose from over 100 fitness partners in incredible outdoor locations throughout London.
Join BUA for free
Partner with us
Build your income and fitness brand. No rent, no fees, no marketing costs. Focus only on your expertise - getting people fit.
Get Set Up