London's Hottest Silent Fitness Disco Experience
Get ready to dance in silence with Charlotte and BUA!
Calling all dance enthusiasts and fitness fanatics in London! Are you ready to unleash your inner dance diva and experience a workout like no other? Get ready to dance in silence and sweat it out at the city's hottest Silent Fitness Disco, brought to you by the dynamic duo of dance instructor Charlotte and BUA FIT. Join us as we dive into this extraordinary partnership that guarantees a fun-filled, high-energy, and unforgettable dance fitness extravaganza!
Get ready to be inspired by the incredible talent and infectious energy of dance instructor Charlotte. With years of experience and a passion for helping people express themselves through movement, Charlotte is the perfect guide to take you on a dance fitness journey you won't forget. Her expertise in various dance styles, combined with her vibrant personality, will have you grooving, smiling, and feeling confident on the dance floor.
Partnering with Charlotte, BUA is a revolutionary fitness platform that brings exciting and unique workout experiences to Londoners outdoors. Our mission is to inspire people to live a happier and healthier life. By fusing dance and fitness, BUA FIT has created a one-of-a-kind Silent Fitness Disco experience that will make you fall in love with working out.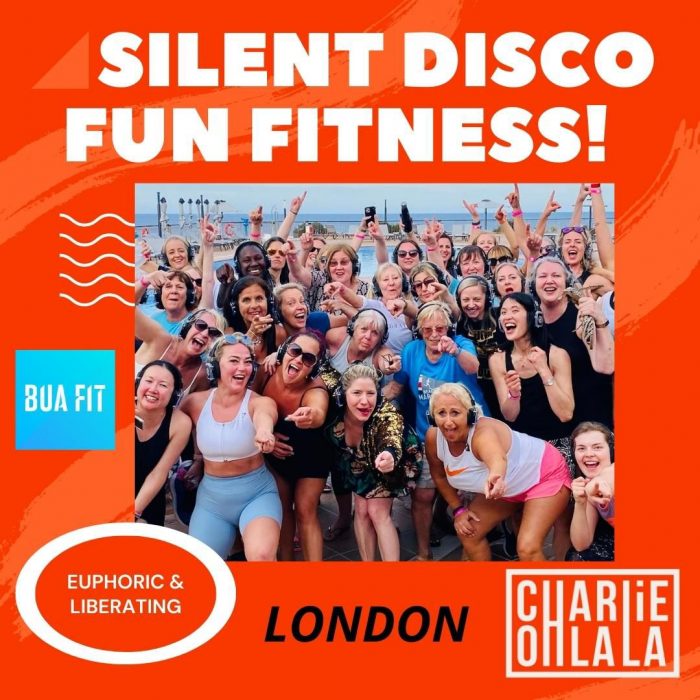 So, what exactly is the Silent Fitness Disco all about? Picture this: You enter a vibrant outdoor location by the river, put on a pair of sleek wireless headphones, and tune into the rhythm of the music. Led by Charlotte's expert choreography, you embark on a dance workout adventure like no other. As the beats pulse through your headphones, you let go of inhibitions, moving freely and expressing yourself through dance.
Why Choose the Silent Fitness Disco:
Fitness Meets Fun: Say goodbye to monotonous workouts! The Silent Fitness Disco combines the best of dance and fitness, ensuring you get fit while having an absolute blast.
Personalised Experience: With wireless headphones, you have the freedom to dance at your own pace and fully immerse yourself in the music.
Feel the Energy: The electrifying atmosphere of a Silent Fitness Disco is unlike anything you've experienced before. The collective energy and support from fellow dancers will motivate you to push beyond your limits.
Stress Relief: Dancing is a fantastic stress-buster, allowing you to let go of worries and escape into the joy of movement.
Unforgettable Memories: The Silent Fitness Disco is not just a workout; it's an experience that will leave you with memories and friendships to cherish.
Join the Silent Fitness Disco Revolution: Are you ready to step out of your comfort zone, shake off the routine, and immerse yourself in the Silent Fitness Disco craze? Don't miss your chance to dance with Charlotte and experience the magic of this fitness partnership with BUA. . Get ready to groove, sweat, and create memories that will keep you smiling long after the dance ends!
It's time to put on your dancing shoes, grab those headphones, and join the Silent Fitness Disco revolution in London today!
As always stay fit, happy, and healthy!
Book Outdoor & Online Classes
Keep it interesting and convenient. Choose from over 100 fitness partners in incredible outdoor locations throughout London.
Join BUA for free
Partner with us
We invest in your sucesss. Build your income and wellness brand at lower risk. No rent. No marketing costs. Find your classes on the first page of Google.
Get Set Up