What is the problem and why does BUA FIT exist?
Humans are born to be outdoors. Going back to our hunter gatherer days, we're outdoors all the time. Now, 93% our time is spent between sitting on an office chair or couch and traveling to and from work to gyms, getting your shopping and generally doing your day-to-day activities. This is a problem! It's really having an impact on our overall health, how productive we are in our jobs and how we think in our everyday lives. We need a daily dose of vitamin D, and to be in green (nature) environments to spark creativity and help us both mentally and physically operate to our best self! Everyone wants to perform everyday tasks to the best of their ability, right?
Did you know, a huge majority of trainers around the world are self-employed?
Since inception, the industry has been heavily marketed towards indoor fitness. Big branded gyms and studios take up costly leases in High St locations, have huge overheads and then pass the large costs down to their trainers who are keeping their customers fit and healthy. The trainers have no choice, the inventory is causing the problem! This leads to trainers actually failing and burning out of the industry because they can't pay their rent or make a profit. We see ranges of £500-£1,200 a month. Alternatively, the low cost market having trainers service group classes for free, 15 hours a week which means they make a deep loss on their time on group fitness when providing the most amount of value to the customer.
In the current market, trainers need commercial skills to get their business off the ground. The problem is; they love helping people get fit and don't have a love for business. Their passion comes from getting clients healthy and fit, not figuring out how to target customers through different marketing funnels, chasing invoices and doing admin. Let them focus on their passion, isn't that how people become extremely successful? Imagine a Doctor had to make their operating tools before they went into performing surgery on a patient, it just wouldn't happen right? Well, it's happening in the fitness space.
Bua Fit is here to drastically change that for our trainers and do it fast!
Why is group fitness growing so rapidly? Tony Robbins will tell you; 'Progress equals happiness'
Tony Robbins – https://en.wikipedia.org/wiki/Tony_Robbins
The market is taking a turn for consumers. 80-90% of the fitness market needs to be motivated to achieve their required results. They need to be told what do and when to do it. Consumers are figuring this out that training alone doesn't work for the majority. Whatever the task at hand is; group fitness 100% provides the solution compared to training by themselves. This is why you see amazing growth stories in ClassPass, F45 and Barry's Bootcamp, all the indoor group training concepts have really taken off in the last decade because the consumer gets results. This is the biggest driver for motivation. The market used to consist of your typical frat bro gym and or going for a run if you wanted to get fit and healthy. This is not the ideal training environment for a spread of demographics to stay active across the world. Gyms can be intimidating, daunting and boring. Training by yourself is lonely, demotivating and not very social for us humans. Groups classes are overcrowded and hard to book into in cities like London, NYC, LA and Sydney which causes failure to train on a regular basis.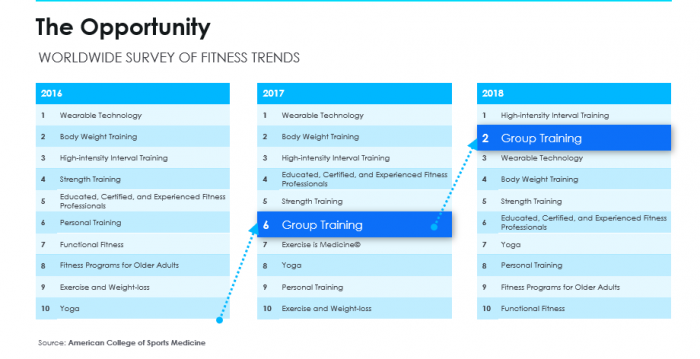 People perform best in the right environment in business right? That's why employing people that fit the company culture is a crucial decision.
It's the same in fitness! You need to find the right training environment(s) to see results and be successful.
The environment in groups fitness (indoor and outdoor) is social, fun and highly motivating as you are pushed and pulled by other clients competing in the same class. If you train alone the majority get frustrated and demotivated by not seeing results, that's ok don't worry as the majority of the market feel the same way. Variety is the spice of life! These needs can change over time with different milestones achieved and sometimes boredom can kick in which drops motivation.
That's why there are 11.5 million people consistently doing groups classes in the UK and rapidly growing.
Successful businesses start with providing solutions to problems in any given market, right?. At Bua Fit, we're definitely here to solve problems like above while making life easier for consumers, trainers and local businesses in the outdoor fitness space. Our job is to help connect, increase engagement between supply (trainers) and demand (consumers) to grow healthier lifestyle's for customers and scalable businesses for our trainers.
But why are we doing this?
Outdoor fitness, in group formats, is proven to be the healthiest way to be active in the world. Its fights depression, you get exposure to vitamin D, you burn more calories, it lowers your blood pressure, its social and we could list several more but I think you get it!. Its this combination with training in groups and the outdoors that make you feel different during your fitness class and post session. It's one of the only formats of training that has an immediate effect on your mental health. Feelings are deeply connected to our soul. A happy soul leads to a productive life and that's what we are here to do, exercise you mind, body and soul!.
Specifically from a technology standpoint, outdoor fitness is an under-serviced market. This is why our Founders, Dave and Sam have built the leading technology in the space. Bua started from their London flats and now we are about to bring the business to a new level with leading brands behind our mission like Google for Start-ups, London Sport's Sport Tech Hub and professional athletes
Bua means victory in Gaelic and to find out what our brand is about in detail, who we are, how we started and where we are going check our Seedr's campaign here! #investaware
As always, stay fit, and stay healthly!
Dave
Founder
Book Fitness Classes
Expect to sweat and smile. Social fitness will push you harder and you'll laugh longer. See results quicker. Take up a habit that sticks.
Get Bua Fit
Partner with us
Build your income and fitness brand. Have more. Do less. No rent, no fees, no marketing costs. Focus only on your expertise - getting people fit.
Get Set Up